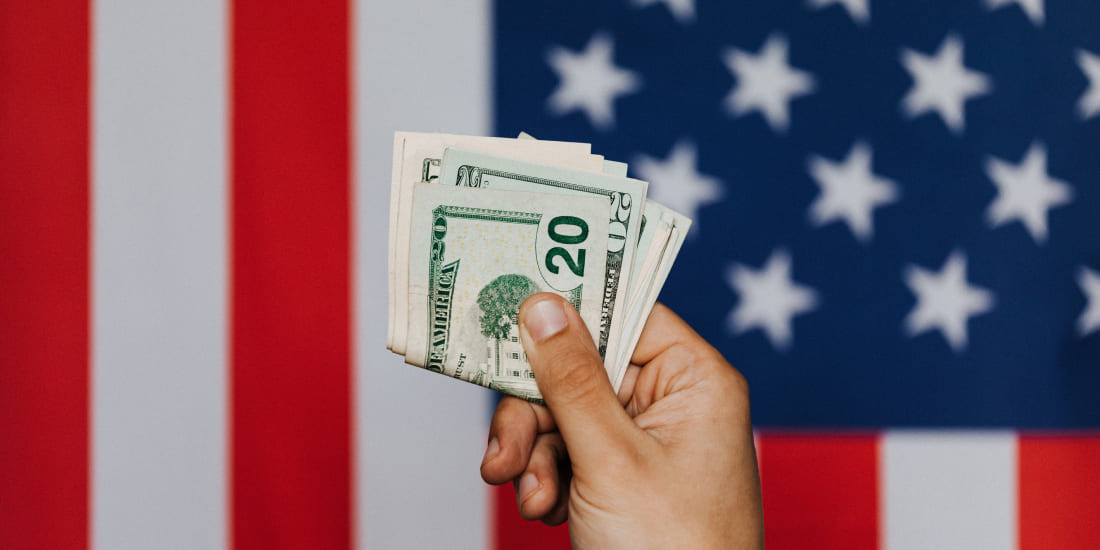 Can I Get a Payday Loan in Another State?
A money crisis makes you feel bad even with a savings account. What if you run it out and can't manage your emergency expenses? Moreover, borrowing from friends and family makes you sick, but payday loans are illegal in your state.
This article will provide updated information on getting a small payday loan in a different state, how it works, and its alternatives. Check out the information below to be informed entirely about these loan products. Also, discover how payday loans work in other states.
Can You Get a Payday Loan in a Different State?
No, you can't go to another state to get a payday loan. Lenders can provide money to people within the state they get a license in. It is regulated by the state where the institutions were founded.
You may still be able to get funding as long as your permanent address is listed in the state that allows payday loans. However, you should know that taking out multiple payday loans from different states is not allowed. Most lenders don't allow consumers to get a payday loan from another state provider after an initial loan amount you have yet to repay.
Whatever your situation is, here is the list of states where payday loans are restricted or prohibited:
Arizona (prohibited)
Arkansas (prohibited)
Colorado (prohibited)
Connecticut (prohibited)
Georgia (prohibited)
Maryland (prohibited)
Massachusetts (prohibited)
Montana (restricted)
New Hampshire (restricted)
New Jersey (prohibited)
New York (prohibited)
North Carolina (prohibited)
Pennsylvania (prohibited)
North Dakota (prohibited)
Oregon (restricted)
Vermont (prohibited)
West Virginia (prohibited)
District of Columbia (prohibited)
How Do Payday Loans in Another State Work?
Even though there are online payday loans, you may visit an in-store loan lender and get the money you need as soon as possible. You'll be happy to learn that payday loans work the same in all US states.
First, you should know if payday loans are available in your state. To get a payday loan, consumers apply online or offline by filling out the application form. After you submit it, the lender will decide whether your payday loan is approved or denied.
If approved, you'll sign the loan agreement that contains terms and conditions about funding and repayments. After these formalities, the lender will fund your money within one business day. But if you're lucky and apply before 10 AM, the lender might transfer the payday loan by the end of the same day. However, it depends on the lender's cut-off times. Consider asking your loan provider about the funding period before applying.
The final step is to cover your payday loan according to its repayment schedule. The lender will withdraw the loan amount and its charges from your bank account on the due date or your next payday. It happens only if you set up automatic payments. This method will help you avoid late penalties if you forget to repay the payday loan on time.
Pros and Cons of Payday Loans
As with all loan products, payday loans have advantages and disadvantages you must consider before going for payday lenders. We've listed the pros and cons to help you make an informed decision.
Payday lending advantages
Almost instant loan approval (no need to wait days or weeks to get an answer from the payday lender);
Fast funding (within 24 hours from payday loan approval, with no delays);
Available payday loan amounts (from $100 – up to $1,000 depending on the state);
Bad credit is OK (most payday loans have no minimum credit score requirements);
No need to have a checking account (consumers may get the money from payday lenders via check cashing services or a prepaid debit card).
Payday lending disadvantages
Limits on maximum loan amounts. If you need more than $1,000, a payday loan isn't a solution anymore;
High-interest rates. The annual percentage rate of payday loans may reach 395%;
Short repayment schedules. The payback terms vary between 7 and 30 days, which is unreasonable if your monthly budget doesn't allow you to make one lump sum payment.
Alternatives to Payday Loans
If you don't like the payday loan disadvantages, maybe it's the right time to think about another form of borrowing money you need for your expenses. Here are some convenient loan options that could fit your financial situation:
Cash Advances
A cash advance is a loan you withdraw from your credit card. Don't confuse this type of financial product with cash advance loans that seem more like payday loans. The amount you can get varies up to $2,000. Because of their high rates, people use cash advances only for emergencies. They are available at banks, ATMs, and sometimes over the phone.
Installment Loans
An installment loan is a form of borrowing loan amounts that vary from $1,000 up to $5,000. Unlike payday loans online, installment loans cover more significant expenses like surgeries, family events, new cars, or home improvement projects. In addition, the interest rates of installment loans are lower than for a payday loan and may reach 36%.
Compared to a payday loan, it is repaid with fixed monthly payments under a fixed payback term. The maximum loan term is 24 months or even longer, depending on the installment loan type.
Personal Loans
A personal loan is an installment loan you get when covering credit card debts or other expenses requiring more considerable loan amounts. Personal loans are considered a long-term financial solution, not an emergency option for unexpected daily costs. You may get from $5,000 up to $35,000 or more with a personal loan. The average personal loan interest rate is 10.95% as of May 2023. The minimum loan term is 24 months or more, depending on the loan you're borrowing.
Car Title Loans
Consider a car title loan if you have a car and need some extra cash. It works like a secured loan you can get by using your vehicle as collateral. However, if you don't repay the loan on time, the lender might seize your car to cover their losses.
Consumers should know that car title loans are expensive. Such lending products usually have an average monthly finance fee of 25%, about 300% as an annual percentage rate.
Credit Union Loans
Try a loan from your local credit union. Usually, such financial institutions provide many benefits for their members, such as discounts, lower interest rates, and more flexible repayment terms.
Such loans work the same way bank loans do. According to the loan agreement, consumers borrow money from a financial institution they must repay with interest.
If you're not a member, consider doing it to qualify for a loan, which may come with a lower rate and sometimes with no fees, depending on your union.
Bank Loans
A bank loan is a traditional type of lending you should try only if you meet 100% of all the requirements that are higher than those for online payday loans. For example, you should have a fair credit score (from 580 to 669 as your FICO score and from 601 to 660 as VantageScore). So choose this option only if you're sure you can qualify for it.
What Happens if You Don't Pay Back a Payday Loan from Another State?
The payday loan company might send your loan to a collection agency, and you'll pay more fees and costs. In addition, if you don't pay back the payday loan debt at the collection agency, it might try to sue you to get what you owe. To avoid collection actions, try talking to the branch manager where you got the payday loan and find the suitable solution for paying your loan on time.
FAQs
What will happen if I get a payday loan in a state where it's illegal?
If you find short-term loans illegal in your state after taking them out, you may not need to repay them. However, there is always an exception, depending on the payday loan laws. Your state's consumer protection office can advise about the legal status of short-term lending in your state.
What to consider before getting a payday loan in another state?
Before getting a payday loan in another state, you should research if they are allowed there. Also, pay attention to the loan terms, including interest rates and additional fees. Then assess your ability to repay the payday loan in full in a fixed period. Temporary residents must bring bank statements and proof that they have a stable source of income.
Are there any online payday lenders that operate in multiple US states?
Sure thing! Search them online and find out, "Are payday loans legal in my state." Also, try to avoid predatory payday lending schemes. Choose 1F Cash Advance – a connection service that operates in thirty-seven states. Our lenders offer loans for consumers who have permanent residence and meet the basic requirements such as age, income, and available bank details.