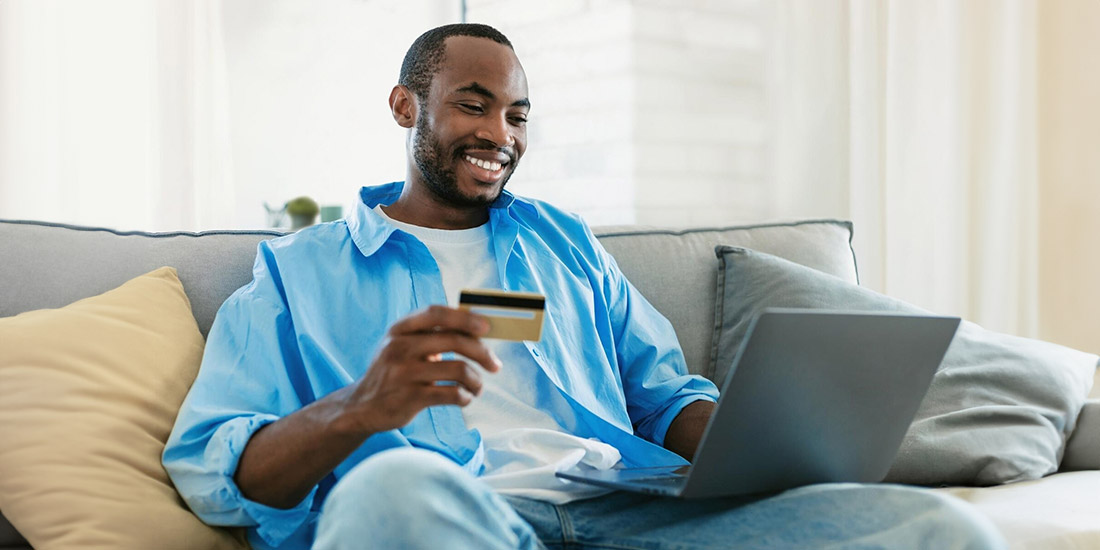 How to Apply for a Payday Loan
Payday loans are known for being easy to qualify for. However, to get one, you need to go through an application process and meet a few requirements. Let's talk about how to apply for a payday loan and what you need to complete the process.
What Do I Need to Get a Payday Loan: Documents and Requirements
Preparing all the required documents and information will help you make the whole process smooth and extremely fast. Here's the list of what you may need for a payday loan application:
Your full name;
Permanent address;
Bank account details;
A valid cell phone number and email to reach you;
A valid government-issued photo ID;
Social Security number and Individual Taxpayer Identification number;
Income confirmation.
Also, you need to ensure you meet the requirements set by a certain loan provider. Although eligibility criteria may vary by lender, here are some common points:
Be over the age of 18;
Be a permanent resident of the state you apply in;
Have a steady source income (typically, a minimum of $1,000-$1,500 per month is required);
Have an active checking account.
That's generally all you need to apply! There's no minimum credit score requirement, so you can apply even with poor or no credit.
How to Get a Payday Loan?
There are two ways to get a payday loan: online and in a store. The online process allows you to apply without leaving your home. You fill out a form on the website and get a loan decision via email. If approved, you will get the money in your bank account within one business day. The repayment is made via automatic withdrawal on the due date.
An in-store application involves visiting a physical lender's branch. You need to gather the required documents and bring them with you. Then, you do all the paperwork and submit a form. The lender reviews your details and comes back to you with a decision. If approved, you can get cash on hand in exchange for a post-dated check that covers the initial loan amount plus lender fees.
How to Fill Out an Online Loan Application at 1F Cash Advance?
Let's find out how to apply for a payday loan through 1F Cash Advance. Follow these steps and enjoy our fast and smooth online application process.
Step 1: Visit the 1F Cash Advance website and click on the "Apply Now" button.

Step 2: Choose the amount you need and go to the next step.

Step 3: Enter your valid email and go further.

Step 4: Enter your valid cell phone number and follow the next step. You can also specify the best time to call under the phone number field.

Step 5: Provide the four last digits of your SSN.

Step 6: Enter your full legal name.

Step 7: Specify your date of birth.

Step 8: Enter your ZIP code and address.

Step 9: Choose the time at your current residence.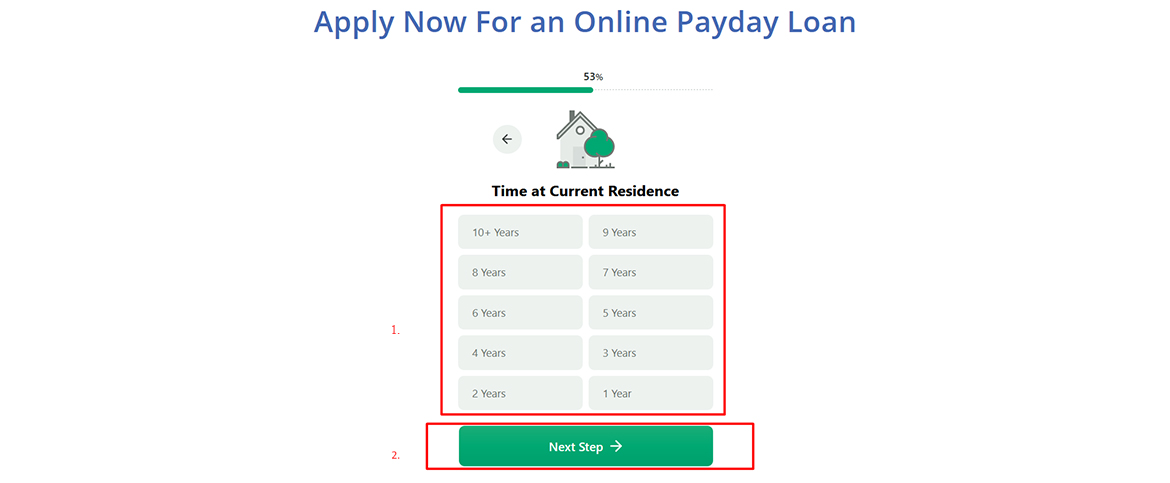 Step 10: Specify whether you rent or own the property you live in.

Step 11: Choose your source of income.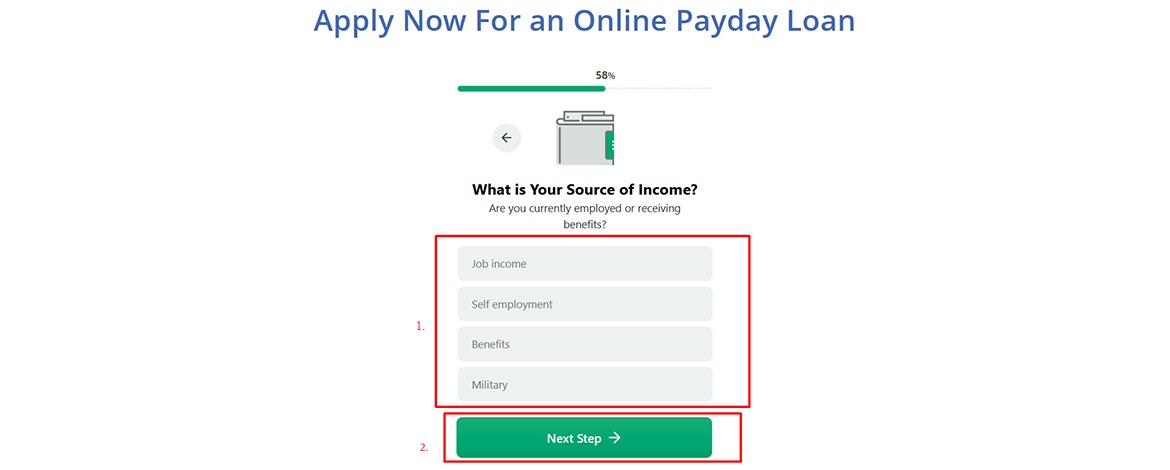 Step 12: Specify how long you have been working in the current company (for job income).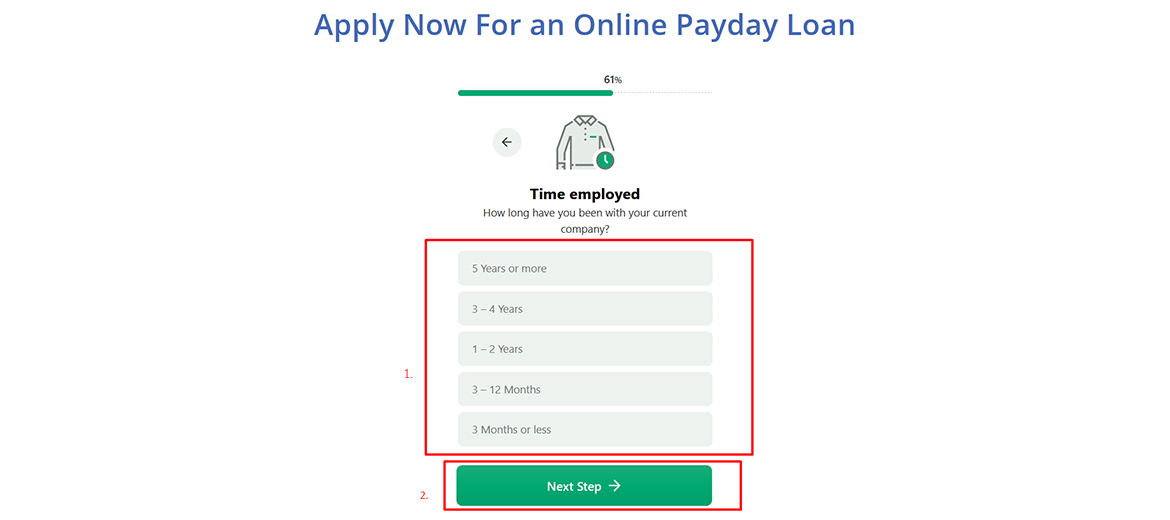 Step 13: Choose your pay frequency.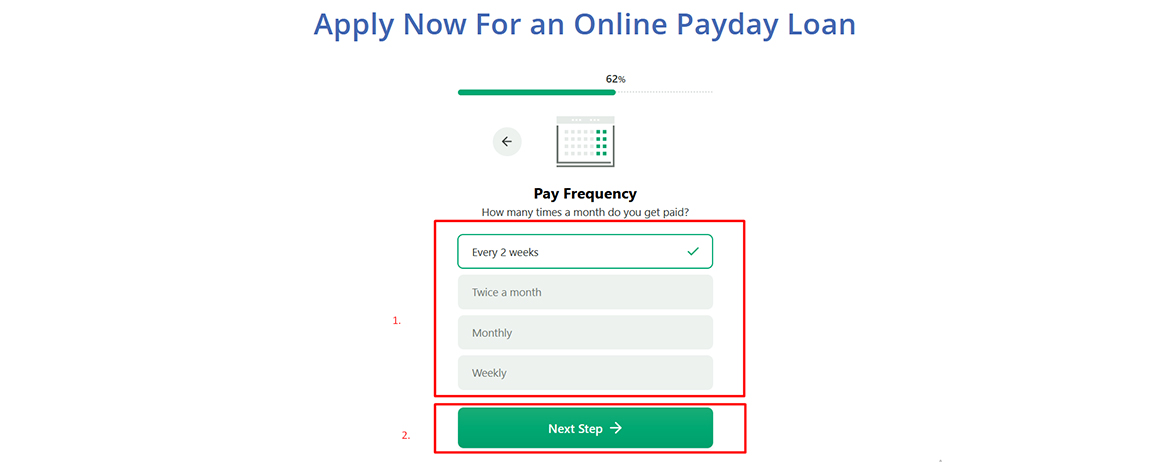 Step 14: Specify your monthly gross income.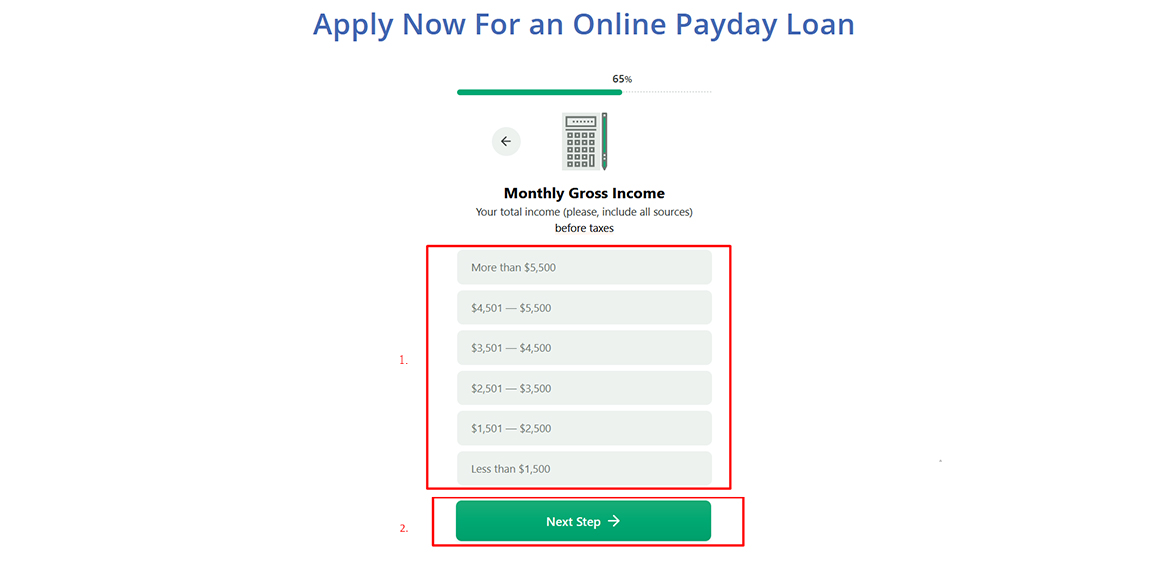 Step 15: Choose your next pay date.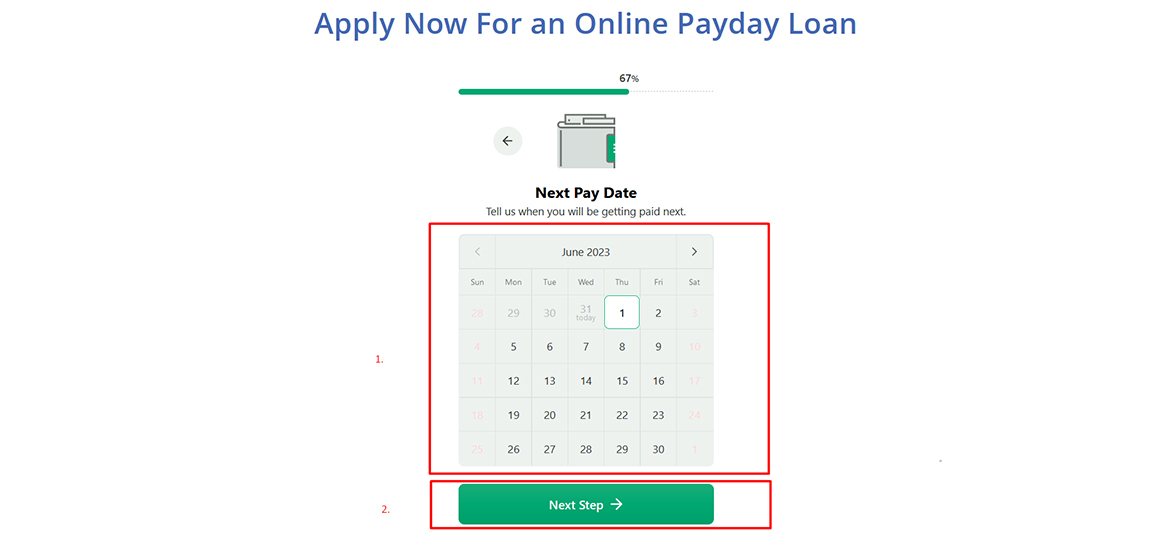 Step 16: Specify your employer's name and job title.
Step 17: Specify your employer's phone number.

Step 18: Choose the way you receive your paycheck.

Step 19: Specify the ABA routing number and let us know where you want your funds to be deposited.

Step 20: Pick your bank account type.

Step 21: Specify how long you have used this bank account.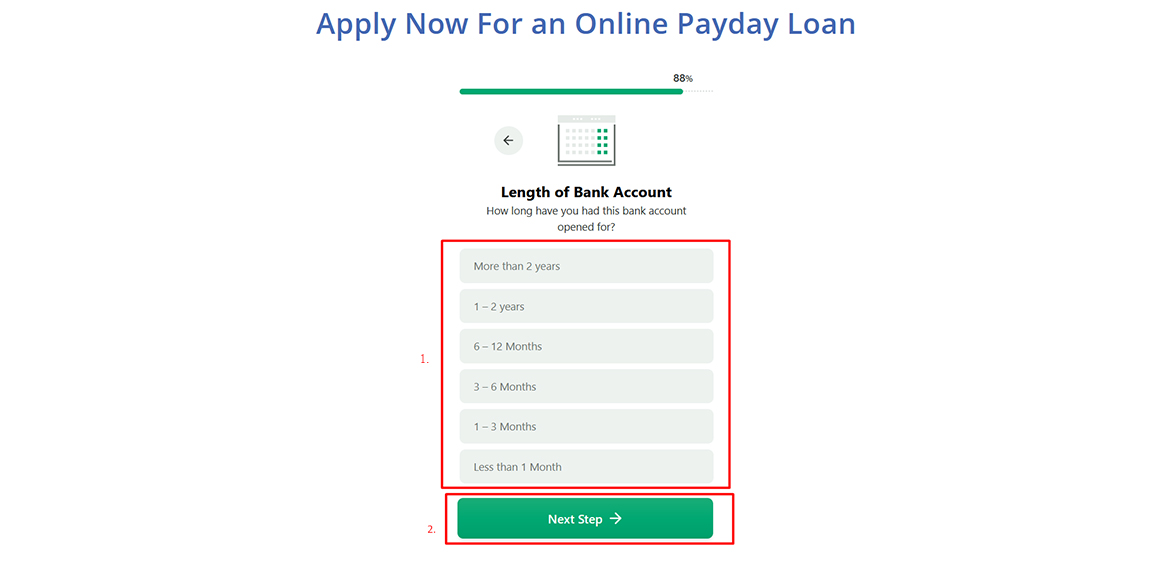 Step 22: Enter your bank account number.

Step 23: Specify your driver's license or state ID number.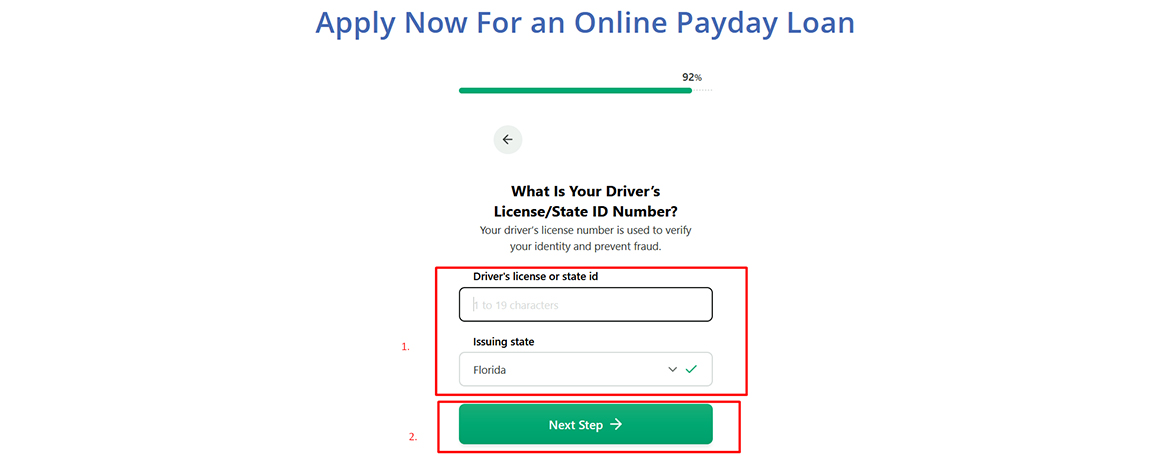 Step 24: Choose your credit score. Don't worry! It's not a determining factor.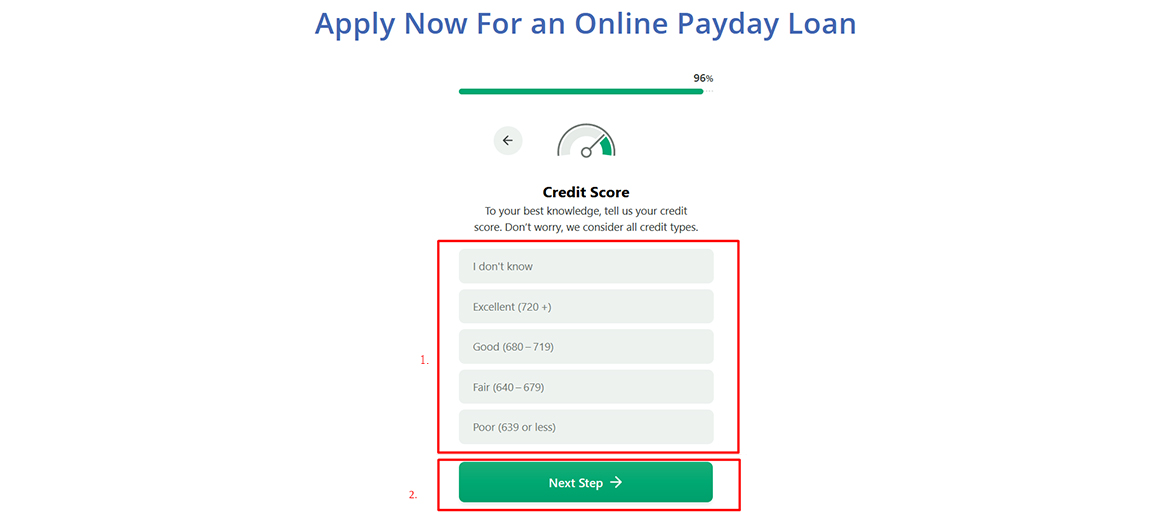 Step 25: Specify your Social Security Number.

Step 26: Request cash by submitting the loan application form.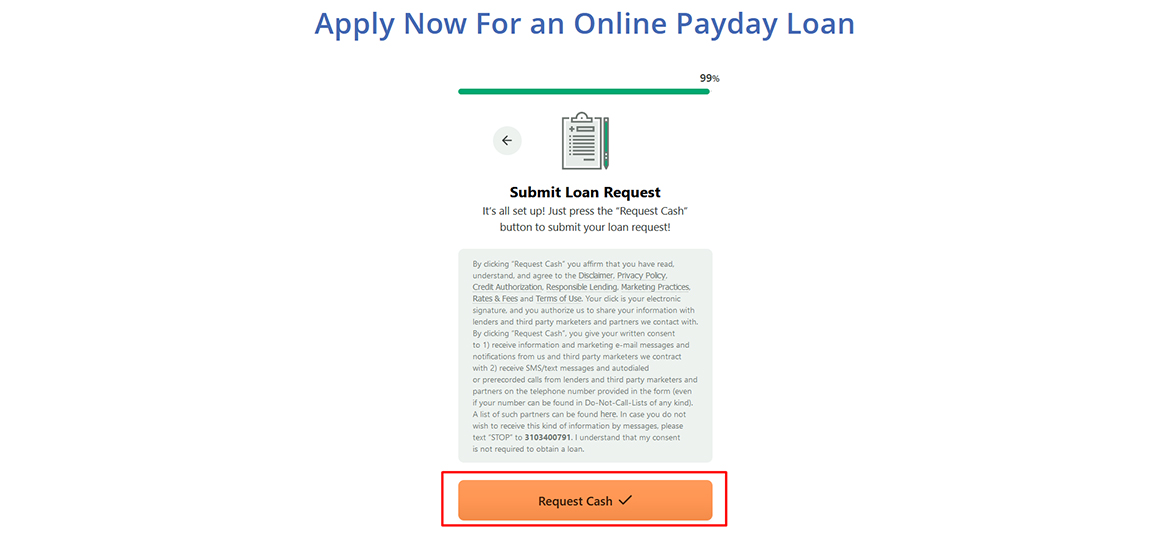 Congratulations! The application process is complete. You will get a loan decision via email within an hour or less if you apply during the lender's operating hours.
Things to Consider Before Applying for Payday Loans
Keep in mind that payday loans often have high interest rates. To make them affordable, payday lenders set limits on loan amounts and terms. Payday loans are short-term loans that must be repaid in full in just a few weeks, often by your next payday. It's not recommended to use them for long-term needs. Any prolongation or rollover results in increased loan costs, making it even more expensive.
Bottom Line
Most payday loans have a straightforward application process and are extremely easy to get. Based on the 1F Cash Advance's loan request procedure, it will take you less than 10 minutes to apply. A payday lender will send you a response within an hour or less, depending on the time you apply. If approved, the funds will be transferred into your checking account within one business day.
Get a Payday Loan Today By Applying Through Our Website NowApply